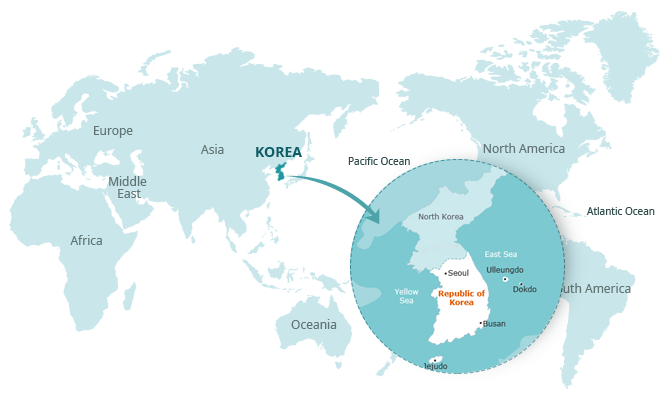 ZOOM
Location
The Korean peninsula, roughly 1,030 kilometers long and 175 kilometers wide at its narrowest point, is located in Northeast Asia. With Seoul as its capital city, Korea's total land area is 100,364 kilometers squared. Korea's neighbors include Japan to the east, China to the west, and Democratic People's Republic of Korea (North Korea) across the northern border.
Population
The total population of Korea is approximately 51,845,612 (as of July 2019), with most of the population residing in the Seoul metropolitan area. Outside of Seoul, other large and economically advanced cities such as Busan, Incheon, Daegu, Daejeon, Gwangju and Ulsan also have higher population densities than other cities in Korea.

Meanwhile, the country's low birth rate has emerged as a serious social problem. The total fertility rate, which represents the average number of children that a woman can have throughout her lifetime, stood at 1.17 in 2016. The figure fell after rebounding from a record low of 1.08 in 2005, thanks to the government's measures to encourage childbirth. The number of newborns in 2016 was also the lowest at 406,300. Meanwhile the life expectancy of South Koreans reached to 82.1 years (as of 2016), higher than the OECD average.

The international migration of South Koreans began at the end of the 19th century and the early 20th century with people leaving for China and Russia. Around the mid-20th century after the 1945 Liberation of Korea, the United States was their main destination, though Koreans also started to emigrate to diverse regions around the world including Europe, the Middle East, and South America.

As a result, the number of overseas Koreans amounted to 7.4 million (2016) spread across 194 countries. Statistics showed that the largest number of expatriate Koreans were in China (2.55 million), followed by the United States (2.49 million), Japan (820,000), and Canada (240,000).

Since 2011, the net inflow of population has outnumbered the net outflow. The number of foreign nationals residing or working in the country has increased dramatically, particularly since 2000. According to Statistics Korea, 407,000 foreign nationals arrived in the country in 2016, the net outflow totaled 75,000, which was up by 14,000 YoY, while 714,000 foreign nationals arrived in the country. Regarding the purpose of their arrival in the country, employment (31.8%) topped the list, followed by short-term stay (30.4%), study (13.1%), and arrivals of overseas Koreans (12.8%). In particular, the number of foreign nationals who enter South Korea for study or training jumped by 30.1% YoY, the largest figure since 2000 (as of 2016).